A darling kit with a little bit of funk and a whole lot of personality! Full of soft pinks and girlie greens and red, the kit contains 10 papers in both textured and art journal style. The art journal papers really feel like the right touch for the elements! The 29 unique elements are feminine and soft and also fun and funky! Some highlights are a pieced-paper girl, felt and fabric flower, and the adorable acrylic elements like the cherries, elephant, and mushroom. Also included is a brush pack of the word art, so you can easily resize/recolor as you wish.
Beautiful pastel colors on the whole kit is too cute.
This kit was featured in Digital Artist Magazine Oct. '09.
Included:
10 background papers, some are nice, textured patterned papers and some are art journal style
1 tag complete with intricate hanging ribbon running through it.
1 shabby chic white painted frame
1 teal and brown polka dot tuxedo ribbon bow
Journaling Starters: 6 phrases (in abr file too): dear diary; what a beautiful day; XOXOX, today is; i love you; i miss you
1 fabric felt flower with great detail
1 fabric folded rose flower with great shading
1 fabric (and shabby) pale pink flower
a row of 5 pink lollipop roses on long thin stems
a pink fabric butterfly flower with red anthers
green paper grass
green doodled acrylic frame
little girl in a jumper with a pocket
little bunny with pink shirt and bow
happy cherries
happy elephant
rainbow ending in happy clouds
happy aqua acrylic mushroom
1 orchard tree
1 hanging woven wicker heart charm
3 bright golden yellow doodles: arrow cluster; heart with red filling; flower.
1 glitter spray of doodled dots and red acrylic hearts
1 vintage heart made from seed beads
1 "man in the moon"-shaped cloud
1 red plaid knotted/stapled ribbon
1 frame wrap with stapled bow
1 red cord bow with grommets for attaching it to page
1 red cord circle frame with big swirled ends
1 quick page
Happy Scrapping!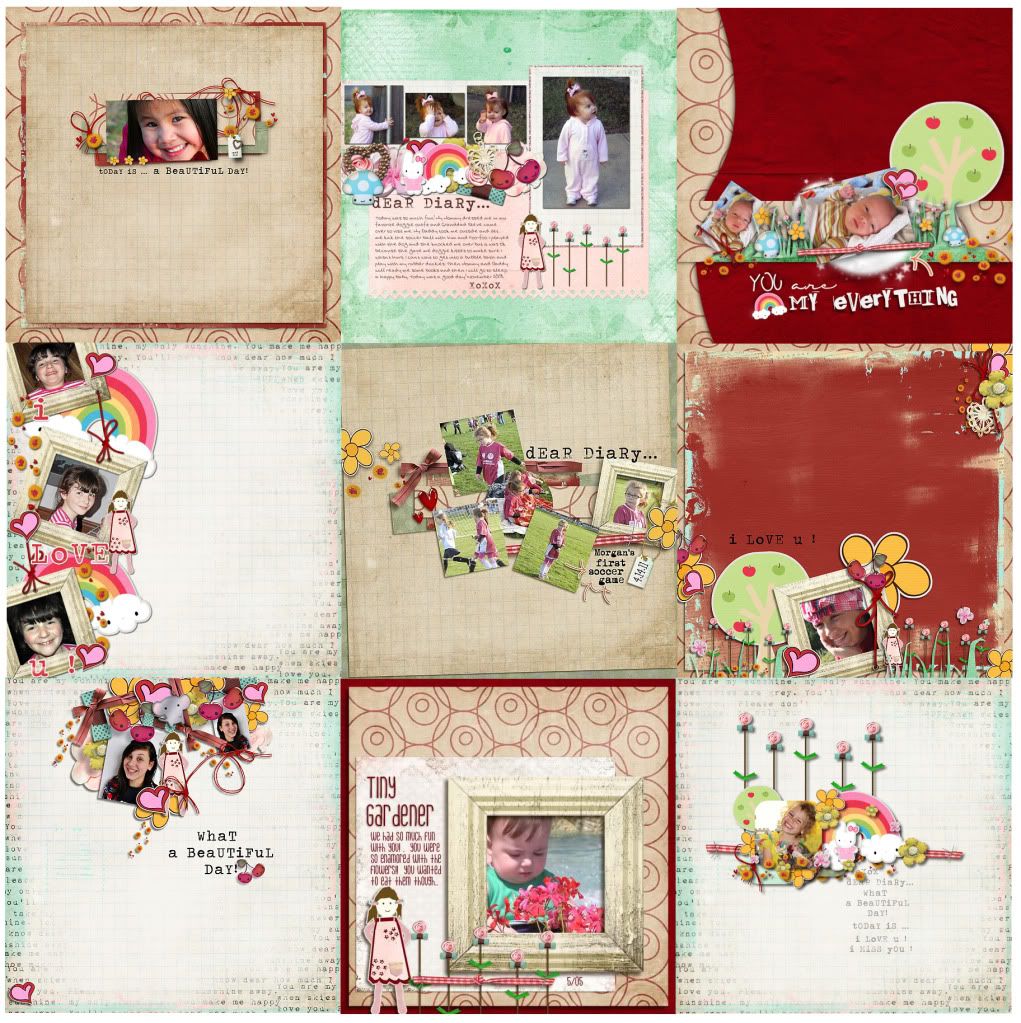 My layout using this fab kit
Leave my layout some love HERE