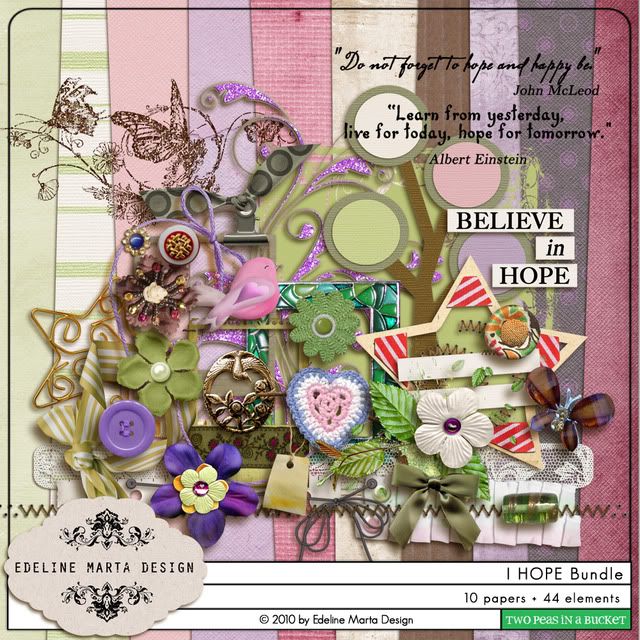 Hope springs eternal – so says the old saying and this saying truly comes to life in "I Hope" from Edeline Marta Designs. Filled with the soft lilac, rose and green tones of the spring season, this beautiful kit is sure to inspire hope in both you and your layouts. Ten gently patterned or textured papers are perfect for layering, cropping or standing on their own – a very versatile selection! As usual with an EMD kit, the elements are irresistible and, with 44 in total, you've got plenty from which to choose! So unique, so precious that your layouts are sure to stand out in any gallery of your choice. Highlights include the green stained glass mini-frame, the crochet heart and the sweetest chirping bird who really wears her heart on her wing! Capture your reasons to be hopeful and make them shine with "I Hope" from Edeline Marta Designs.
My layout using I Hope bundle
Leave my layout some love
HERE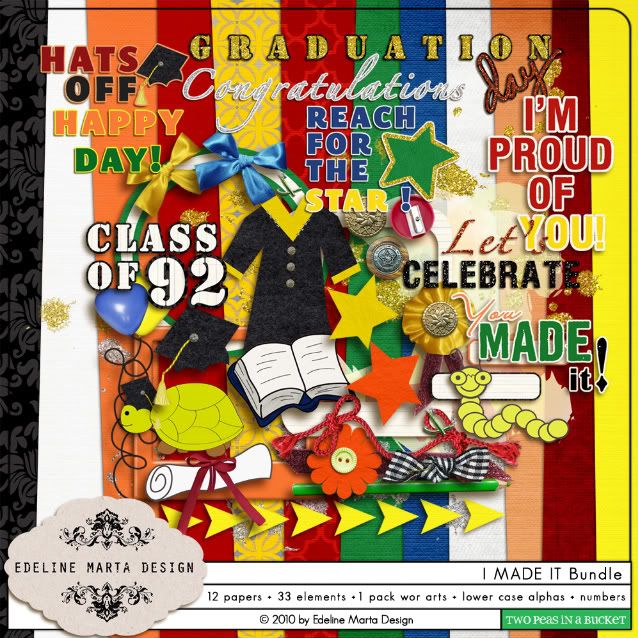 It is done! It is time to celebrate! Graduation is here and this bright and bold kit; "I Made It" from Edeline Marta Designs has what you need to remember these important milestones. The vibrant colors are sure to compliment your photos and bring across the well deserved pride in the accomplishment of finishing school! Twelve papers that are so vivid and radiant, they can stand alone on your page or be cropped for accents to bring out colors in your photos. Thirty-one elements will be a delight to make clusters and accent your pages. "I Made It" kit is complete with graduation cap and diploma, and the cutest little turtle. The uppercase alpha is perfect with the school paper pattern and dark stroke with pattern around it to help your titles pop! The 0-9 numbers match the alpha with the school paper going the opposite direction and the bold pattern stroke around, to remember that important date. Ten different word arts will delight from youngest to oldest. Be proud of your graduate and do it up right with this perfectly made kit "I Made It" by Edeline Marta Designs.

My Layout using I made it
Leave my layout some love
HERE